AILI Travel Scholarships for Indigenous language workers
THERE ARE NO CURRENT OPPORTUNITIES FOR TRAVEL SCHOLARSHIPS.

Sign up to our mailing list here for information about any future opportunities.
What is the Travel Scholarship?
With the support of the Commonwealth Government's Indigenous Languages and Arts funding program, the Australian Indigenous Languages Institute is pleased to announce travel scholarships for attendance at intensive courses.
These scholarships are available to Indigenous language workers who wish to engage in university-level studies in Indigenous languages and linguistics. These intensives comprise undergraduate units of study delivered as summer and winter intensives.
Charles Darwin University, in partnership with Batchelor Institute, offer a range of programs available at diploma, associate degree and bachelor levels, delivered online, face-to-face and via intensive workshops. The summer and winter intensive programs are run in partnership with the Australian National University, with a view to involving other training providers in future. The AILI is modelled on North American programs such as the Canadian Indigenous Languages and Literacy Development Institute and the American Indian Language Development Institute.
These scholarships are ideally structured for Indigenous people already engaged in language work, particularly those who do not already have university qualifications. Once enrolled, courses and assessments can be tailored to the needs of their specific communities.
The courses are open to anyone, but these travel scholarships are limited to Indigenous people only. They are an excellent opportunity to engage with students and language workers from around Australia.
Nine Indigenous language workers have received scholarships to attend the Sydney Summer School in January 2019, and in Darwin in July 2019 and February 2020.  There is no further funding available, and no courses currently on offer.
Travel Scholarship Details
Scholarships will cover
Domestic travel from community to course location
Accommodation for the duration of the course, plus 1 day either side for travel if required
Costs of meals and some local transport (per diem)
Course fees and materials for one of the intensive courses.
Any additional course excursions or activities
Costs not covered by the scholarship funds include:
Personal items
Private activities outside the course program
Any accompanying travellers
Travel will be arranged by AILI staff in consultation with the scholarship recipients.
Completion of the course may be awarded partial credit towards a Diploma of Indigenous Language Work through Charles Darwin University.
Eligible participants will be encouraged to apply for enrolment in this courset, which will involve application through SATAC – bring along your transcripts and other relevant papers for completing the application
Financial support for ongoing study (beyond the current scholarship program) is available through the Australian government's Away from Base funding and AbStudy
Application Rules
Applications are open to Indigenous people over the age of 18.
Applications must be submitted online before the closing date.
Applications must include the name and contact details of two referees, as well as a 4-500 word statement of interest.
The statement should include information such as:
Your involvement in language work
Your goals for language revitalisation or maintenance
What you hope to achieve by doing this course
How your community will benefit from your involvement in this course
Eligible applicants and referees will be interviewed by telephone.
The scholarships are particularly focused on people who have not completed a university qualification – our goal is to introduce Indigenous language workers to tertiary education, so preference will be given to those who have not previously attended university.
Part of the application process will require consideration of the participants' home situation, physical and mental health, to addressing any factors which may inhibit their ability to complete the course. This is not intended to exclude anyone from the program but to ensure that the venues and staff are aware of any issues and can make allowances or provide additional support as needed.
If a successful participant does not complete the course they will be required to return unused funds to AILI.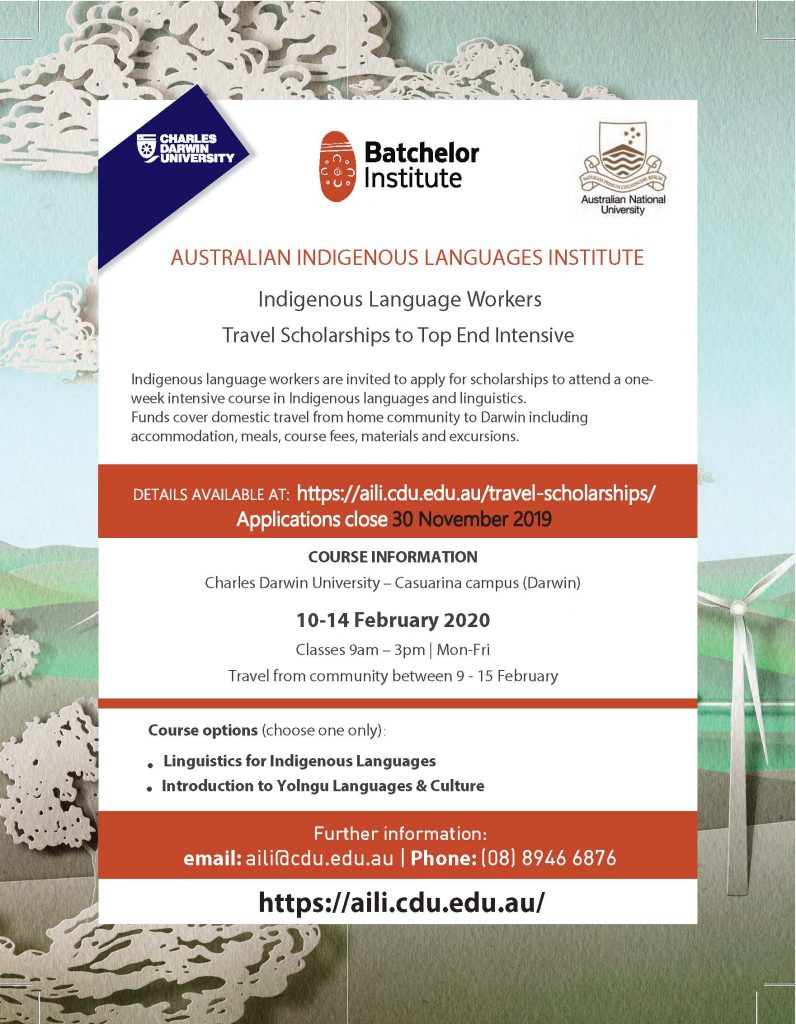 Sign up to our mailing list here
THERE ARE NO CURRENT OPPORTUNITIES FOR TRAVEL SCHOLARSHIPS.