Indigenous Languages Top End Intensive –
Spend a week learning about the languages of Australia's First Peoples.
Charles Darwin University is working in collaboration with the Australian National University and Batchelor Institute of Indigenous Tertiary Education to offer the Indigenous Languages 'Top End Intensive' in Darwin in February 2020.
Where: Charles Darwin University, Casuarina campus (Darwin)
When: 10-14 February 2020
Payment: Register and pay here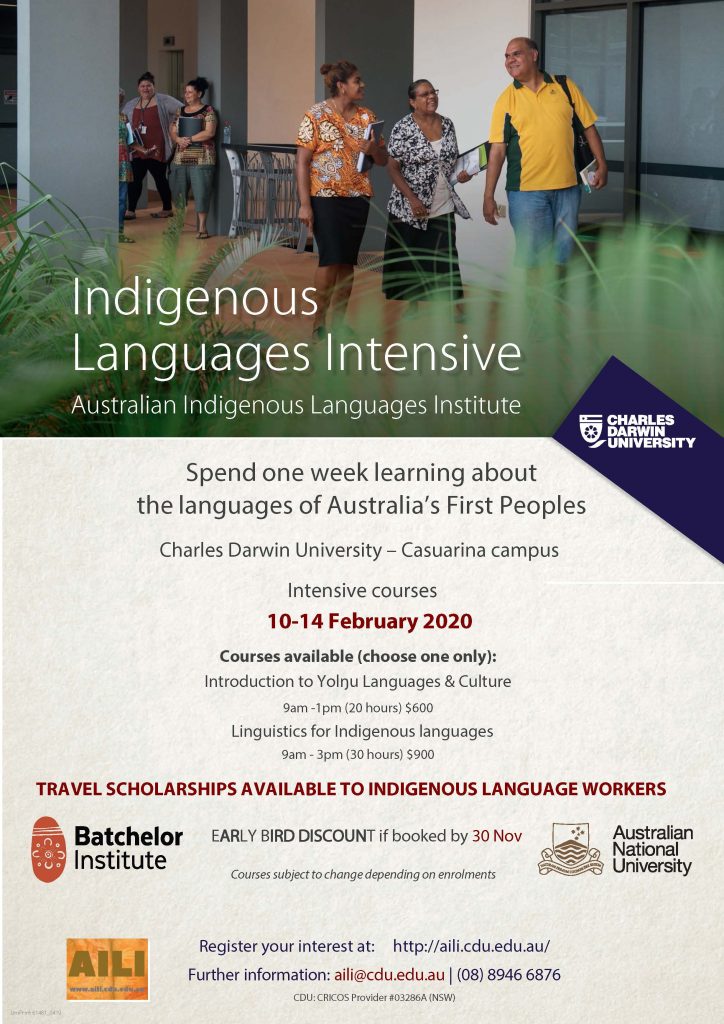 Units available
This is an introduction to the scientific study of language through a focus on Australia's Indigenous languages. You will gain an introductory understanding of the practical and theoretical aspects of linguistics and how languages work, including sound production and sound systems, parts of speech, grammatical relations in words and sentences, and meaning.
This forms part of the INL100 unit Linguistics for Indigenous Languages 1 accredited through CDU/Batchelor Institute.
Course will run from 9am-3pm (total 30 hours) from Mon-Fri
Cost $900 (early bird discount if booked by 30 November)
This unit gives a basic grounding in the Dhuwala variety of Yolŋu Matha from North East Arnhem Land, including the sounds, grammar, and a basic vocabulary. You will also be given an introduction to moiety systems, various aspects of kinship, Yolŋu life, creation stories, songs, art and ceremonies, and how these relate together.
This one-week course is the equivalent of the 6-week short course running through the university semester.
Course will run from 9am-1pm (total 20 hours) from Mon-Fri
Cost $600 (early bird discount if booked by 30 November)
Read more about Introduction to Yolŋu Languages and Culture.
Courses subject to change depending on enrolments
Enrolment Options