Indigenous Languages Top End Intensive – July 2019
In the UN's International Year of Indigenous Languages, why not spend two weeks learning about the languages of Australia's First Peoples.
Charles Darwin University is working in collaboration with the Australian National University and Batchelor Institute of Indigenous Tertiary Education to offer the Indigenous Languages 'Top End Intensive' in Darwin in July 2019.
When: A two-week intensive block from 8-19 July 2019
Where: Charles Darwin University, Casuarina campus (Darwin)
Cost:

$1200 per person
$600 for Yolŋu matha (1 week only)
(HECS-HELP available for enrolled students)

EARLY BIRD SPECIAL! Enrol before 24 May for a $200 discount!
Payment: Register and pay here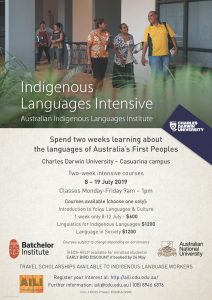 Attend as a Higher Education student: HECS-HELP applies if you are studying in a Commonwealth Supported place. If you are an enrolled student at CDU or another university, then in most cases you would be required to pay the HECS-HELP fee which may vary slightly from institution to institution.
Units
Please note: students can only choose one unit at the Summer School as all classes are presented simultaneously. All units are fully accredited and can be credited towards study.
If insufficient numbers, a workshop may not run. Refunds will be available, or transfers to another workshop.
Enrolment Options